Hi all
Just a quick heads up from Opies here to let you guys know that we now stock replacement air filters from K&N for the new 2016 Mazda MX-5, Fiat 500 (non turbo 2012) and the Vauxhall Corsa 2014 onwards. These OE replacement performance filters are designed to exactly fit the following vehicles, prices shown include your 10% blog discount:
K&N 33-5040: Fits the new 2016 model Mazda MX-5 Miata/Roadster with 1.5 and 2.0 litre petrol engines – £47.61
K&N 33-3046: Fits Fiat 500 and Panda TwinAir non turbo models with 0.9 litre petrol engines from 2012 onwards – £56.65
K&N 33-3040: Fits all Vauxhall/Opel Corsa models, including models with a 1.0/1.2/1.4/1.6 litre petrol engines as well as the 1.3 litre diesel version manufactured from 2014 onwards – £42.21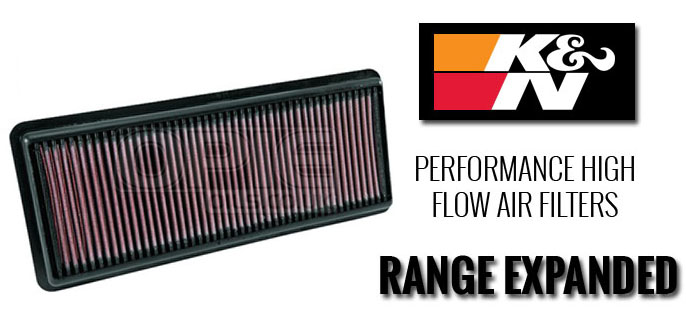 Don't forget to use your blog discount "OPIEBLOG" to get an extra 10% off your order!
You can find this fantastic new product HERE.Those of you familiar with K&N will already be aware of the quality that is associated with their brand. K&N's High-Flow Air Filter offers low air flow restriction, resulting in increased throttle-response, horsepower and torque. The deep pleated K&N cotton media provides a large filtration area offering long service intervals and excellent filtration. This filter is designed to fit directly into the OEM air box without any fitting or cutting required.
KEY FEATURES:
– Designed to increase horsepower and torque
– Provides high capacity and long service intervals
– No fuel-management modifications necessary
– Washable, reusable, pre-oiled and ready for installation
– Comes with K&Ns famous million-mile limited warranty
Got a pre 2016 Mazda? Not a problem, use this handy look up guide HERE and enter your vehicle details, we're sure you'll find what you're after. If not, please feel free to give our team a call on 01209 202 944,send us an email to sales@opieoils.co.uk or simply drop us a message on here and we'll be happy to look into it for you. We're in the office Monday to Friday 8:30-5:30.
It's also worth keeping an eye on our current offers page HERE for all sorts of promotions and discounts.
Until next time
Opies